MBMA Publishes New Industry Practices Guidebook For Metal Buildings
Time: 2021-12-06 11:02:48 From:
Cleveland, OH - The Metal Building Manufacturers Association (MBMA) has published a new guidebook, Common Industry Practices. This free publication, available for download at the MBMA blog, provides an overview of standard practices for architects, engineers, owners, builders and manufacturers involved in metal building design and construction.
"The metal building industry has developed a set of standard practices over time that have become traditional in the building process," said Tony Bouquot, MBMA general manager. "It's important for everyone who works with a metal building to understand what these practices are and determine what their role should be. MBMA's new guide is a good place to start when someone is looking to purchase or construct a metal building."

Common Industry Practices is also intended to serve as a general checklist to assist with preparing the necessary documents that govern the metal building design and construction process. The guidebook consists of the following nine sections:
• Introduction
• Sale of a Metal Building System
• Design of a Metal Building System
• Materials and Fabrication
• Delivery and Receipt
• Erection and Other Field Work
• Insurance
• General
• Fabrication Tolerances
In addition to Common Industry Practices, MBMA's website has an array of other useful information about metal buildings and the metal building industry.
About The Metal Building Manufacturers Association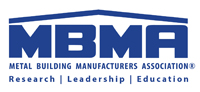 Founded in 1956, MBMA serves manufacturers and suppliers as it works to promote the metal building systems industry. For 65 years, its membership has supplied high-quality buildings for use in commercial, retail, office, industrial, institutional and other end-uses. The association provides a wealth of information on its website for anyone who works with or is interested in metal building systems. It includes technical materials and design guides. For more information, visit www.mbma.com.
You can download the latest Common Industry Practices at the MBMA blog
here
.

Previous:China wants to curb steel production. Some say it's 'virtually impossible'
Next:Last